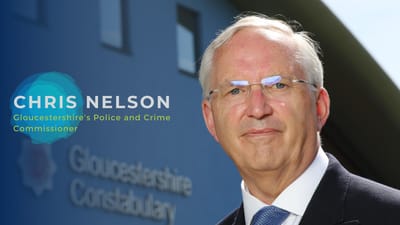 Chris Nelson was elected as Gloucestershire's Police and Crime Commissioner in May 2021.
After growing up in Leeds, Chris joined the Army at 18, attending Sandhurst. He retired as a full Colonel, having served operationally in the First Gulf War and on the streets of Northern Ireland. His senior staff roles embraced tri-service programme and resource management, operational equipment requirements, budgets, work force planning, IT, training, recruitment, and estates. He gained two degrees and multiple academic and professional qualifications during his time in the Army.
Following his military service, he had a career in business, helping to provide state of the art training facilities to police forces around the world, finishing off that second career as Vice President International Business Development for a US company in Atlanta, Georgia.
His third career as a politician includes time as a Borough councillor in Cheltenham, Member of the County Police and Crime Panel and Chairman of a very busy parish council.
As PCC for Gloucestershire, Chris wants to introduce a zero-tolerance approach to tackling anti-social behaviour; secure funding for 300 new officers and police staff; significantly increase the Special Constabulary and introduce a new role of Volunteer PCSO; fight rural crime; address scam calls; and improve Gloucestershire Constabulary's 101 service. Other priorities within his Police and Crime Prevention Plan are actions to stop Violence against Women and Girls; a focus on innovative, ground breaking and proven technology to prevent and fight crime; more of a focus on victims; and empowering local communities.
Chris lives in Cheltenham with his wife, Emma (and Monty, his West Highland Terrier). He has four children, six grandchildren, loves family history research, and is a keen tennis and padel player.
If you would like to contact Chris, please email him at
pcc@gloucestershire-pcc.gov.uk
.
Please follow Chris on his facebook page to learn more about his work
@ChrisNelsonPCC
.